It's the end of the year, that means "experts" from all over the web are sharing their top 10, 50, 100 and more often oddly numbered lists (if you're going to do a top 47 list just name it "top 47 ways I'm too lazy to think of 50") of things they think are best, worst or people they want to suck up to. So, since I too have Internet access, opinions and people I want to suck up to, I decided to put together my own list: THE TOP 10 SHOWS OF 2011 (aka PLEASE HIRE ME). This list is full of genuine admiration and genuine desire/requests to get a solid, consistent TV gig in 2012. Aaaand it's a normal even number! Here we go (in no particular order)…
1) Billy On The Street-  This show is absolutely hysterical and host, Billy Eichner is addictively awesome and ballsy as fuck. His voice saying ridiculous things sticks in my head and makes me laugh long after I shut off my TV. I'd love to write for this show and/or just be Billy's on-set BFF.
2) Up All Night - It's been a while since a sitcom made me laugh out loud like Up All Night. It's adorable and smart and just great! While I'm still unsure if I want kids/if my ovaries will work by the time I have more than $500 in a savings account, I've known enough new parents to say this show does an excellent job portraying how hard and hilarious raising a baby can be. And I'm such a fan of Christina Applegate. If there's a spot open in the writers room or a role for a sassy brunette, I'll take it!
3) The Soup- I've wanted to work on this show since it first aired. They are blunt, ridiculous and always spot on. I often watch a segment, cackle, scare my dog with my cackling, then rewind and re-watch, cackle again, scare my dog, my dog runs away, then I chase my dog and scream "why don't you want to spend time with me daddy?!" Please someone hire me to write for this show, thanks!



4) New Girl- If hired on this show, I promise not to steal Zooey's hair. I promise not to steal Zooey's hair.  I promise not to steal Zooey's hair. In addition to loving Zooey Deshanel's do, I also love this show. It's funny, silly, and sweet. Let's cast me as something or hire me to write something, mmm kay? Cool!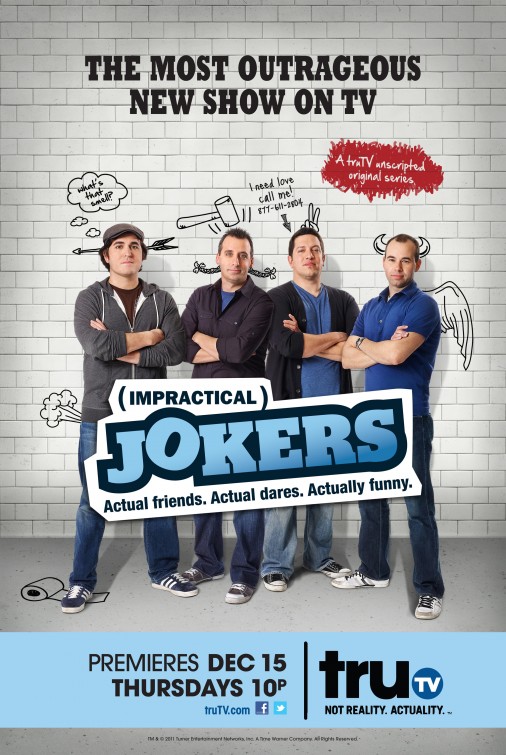 5) Impractical Jokers- Honestly, I would suck on a hidden camera prank show. I'd feel bad way too easily and then apologize profusely to the prankee and then follow up with them weeks later with a weird drunk Facebook message saying "so sorry I pranked you. Do you hate me? xo Giulia." But these guys rock through pranks like pros. If you like belly laughter I recommend adding this show to your DVR. I'd like to write for this show or somehow magically gain these guys ability to do what they do.


6) Enlightened- Thank God for HBO. This network just keeps turning out hit after hit after hit. My new favorite, Enlightened had me as a fan the second I saw the poster. As someone who has had her fair share of mental meltdowns (is daily from 2005 to 2008 a fair share?) and self-help/positivity binges ( in 2002 I joined One Spirit Book Club 8 times under different fake names to take advantage of their "8 books for $4" deal) I get this show and this show gets me. If you don't want me to loose my mind please hire me to write for this or cast me in this, okay? OKAY???!!
7) Dateline, 20/20, TODAY, or my own new show- I LOVE investigative journalism.  When the TODAY Show's Jeff Rossen got to confront shady locksmiths ("What's your name? Nice name.") I was envious. In my off-camera life I often act as the politeness police confronting people when they are assholes like: people who litter whom I often pick up their garbage and run up to them screaming "you dropped this!", people who blast music out of their MP3 players on the subway whom I usually go up to and say "can you please put on headphones? Your music sucks," or the guy in the car outside my apartment who catcalled me so I went up to his window and asked "what makes you think that's okay?" and he said "look at how your dressed" so I told him to "jerk off and die". What I'm getting at here is, I I love making cruel people feel small and fighting for morality and fairness soooo let's give me a segment or a show where I can do this on TV. Look, I wrote in my 3rd grade journal that I wanted to "save the world", so let's help me help the world.
8) Happy Endings - I love shows like this with multiple lines and lots of different characters (and unique characters like Max Blum, finally a non-stereo typical gay guy on TV). I could go on and on but how I about I just tell the writers and cast how great they are when I'm on set writing new episodes and/or rehearsing my scene? That would be best for everyone.


9)Awkward One of, if not the best, show on MTV and from 2012. If you were ever a teenager (which you all were, and if you weren't, whoa! Weird!) you will adore this show. It speaks to my heart while making me laugh, Lauren Iungerich has created a show with the perfect combo of emotion and humor. The season one finale made me weep. And hot damn, Matty McKibbon is the new Jordon Catalano. I would absolutely be over the moon if (when) I were hired to write for this show.
10) Louie- I don't think there is a comic, let alone a human who doesn't swoon
over this show. It's honest, dark, uncomfortable, and brilliant. Any involvement I could have with a show like this would make me die a happy girl (that was not a suicide threat. Please, I'm not that pathetic. I'm just asking for a job not a sympathy gesture…unless that will work). 
Of course this list is just what's on air now, I am absolutely open to job offers to write for and/or be on shows in development (ahem including the three original pilots and two non-scripted shows I have written. Just sayin'). I am approaching 2012 with a "put it out into the universe" mentality, so this is me doing just that. And it's me saying thank you to TV for being pretty awesome this year (Mob Wives and Toddlers and Tiaras aside).
Alright universe, let's do this!